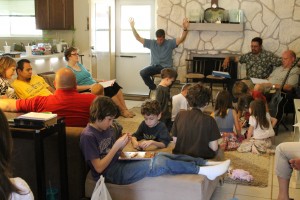 Jesus Christ is the Son of the Living God. He is also God, Lord, and the Christ. Jesus was crucified for the forgiveness of sins. He arose from the dead and is alive and well today!
We are saved by grace alone through faith in Jesus Christ. Good works cannot save us.
When we are saved, we are born of God and born into the family of God. Church life is not only church meetings, but an opportunity to share life together with the church family. Prayer, love, accountability, speaking the truth to one another, and fellowship are all a part of being the church.
We have no paid staff, building funds or utilities to pay. Therefore giving is a private matter between each person and God. People are free to give to families who may need things within the fellowship, to people in different fellowships, evangelism events, missions, or various charities.
For church meetings, although we all do get together often, we primarily meet in homes in a small group or home group setting. These meetings are patterned after I Corinthians 14. "What is the outcome when you gather together, each one has a psalm, a hymn, a teaching, a revelation. Let all things be done for edification." When we gather together, the church is fed and built up through many members contributing and participating, not just one individual.
The church is to have plural leadership (1 Peter 5:1-4). Each participant has valuable input to give. Although there are older and more experienced men among us, no one person is the sole leader (as the New Testament example). The scriptures are the final authority, not a man. We will obey the Lord through scripture and we are to humbly listen to the Lord speak through one another.
We have a high regard for scripture. The Bible is the Word of God. Scripture always takes precedence over "hearing the Lord, being led, or feeling impressed upon" – although these are valid experiences, but only if they point us to scripture and are backed by scripture.
Simplicity and sincerity are important in the life of a Christian. We are not formal. We do not dress up nor are we uptight in our meeting times. But we are prayerful and sincere.
Men's and Women's roles: our current understanding and practice is that the ladies are encouraged to fully participate, pray, prophecy, sing, share testimony and contribute to the conversation. However, many are of the opinion that it is not proper or "becoming" for a lady to take authority over a brother or stand up and teach with authority. This would be the role of the brothers.
For more information on "what we believe" see Will You Fit In or the Home Church Help website.